Founded in 2009, In Balance Yoga Studio in Blacksburg, Virginia is your home away from hOMe!
We have over forty classes a week, we can help find the right one for you.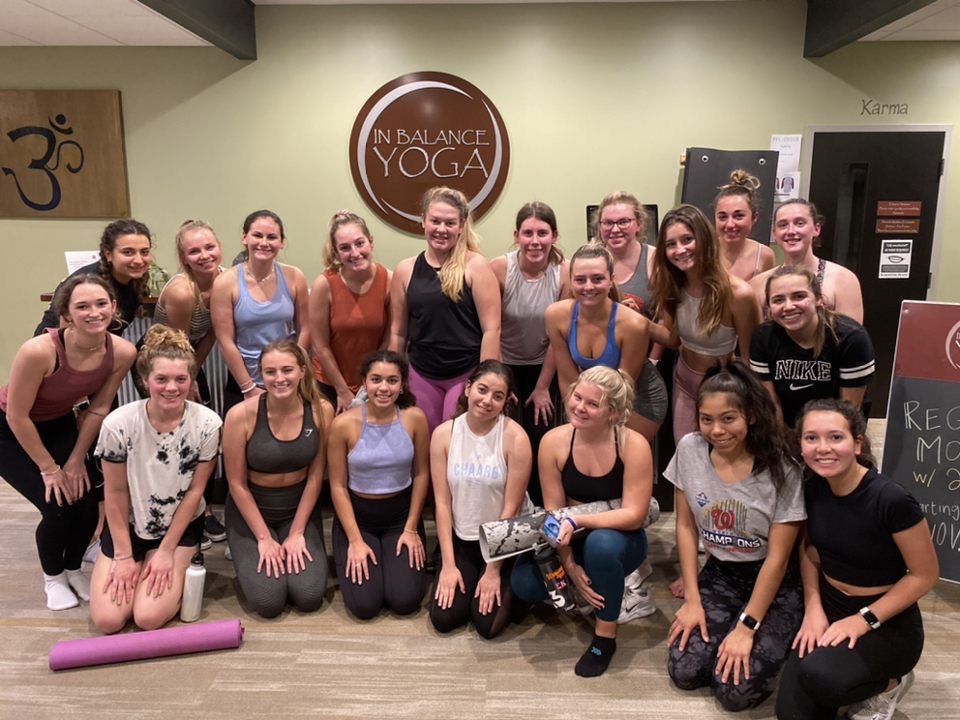 Enjoy all the benefits of being a member of In Balance Yoga Studio.
We offer a foundational 200 hour and advanced 300 hour lifestyle and yoga teacher trainings. Learn more about continuing your practice.
We can help you raise money for your organization or cause by teaching a donations-based yoga class.
We teach private individual and group sessions. We also host aerial kids birthday parties! 
Checkout our retail section at the studio or purchase a gift card online.
Absorb all the benefits of infrared and light therapy in our heated sauna.
What Others are Saying about In Balance Yoga
Marigold Hibbert
Wow, so excited to complete my first on demand class.  Now I have zero excuses to not practice!
I have been thinking about something since the streaming classes began.  I reflected on the idea that I had no one watching me, missing me if I didn't come to class, etc.  So what was motivating me?  It was the connection to my instructors that had been cultivated since I began taking classes 2 1/2 years ago.  If that wonderful sense of community and personal interest that I felt each time I came into the studio hadn't been there, I don't believe I would have been as motivated to practice with streaming classes.
So, really, IBY has been preparing for this pandemic for many, many years! Thank you so much!
Karl & Teressa Beier
We are so grateful that we have had access to the IBY online classes over the past few weeks. We have practiced regularly and felt as if the instructors were in the room with us. All of us will be back in the studio one day-and very happy to be there again-but Karl and I will always appreciate all of the hard work Nicole, Keala, and the IBY staff have done to make the online classes available.
We have felt as if we were all together in spirit even if not in person.
Kate Nguyen
I saw that you guys have on demand / virtual yoga sessions now and was so excited! I used to go to In Balance all the time as a student but graduated and moved to California in 2018. I'd love to be able to "attend" some of my favorite classes again!
I think I still have 8 In Balance class passes that I never had the chance to use or give away. I was wondering if there's anyway we could convert my remaining classes into credit towards a month of membership? And of course I am willing to pay the difference. With my job and the time difference on the West Coast, it's a bit difficult for me to attend the live sessions … so I wanted to get a membership to access the on demand classes. I totally understand if logistically it's too difficult to do this, just thought I would ask! Thanks so much! I compare every studio I go to in California with In Balance and I miss your studio so much. In Balance will always hold a special place in my heart, I truly mean it when I say coming to your classes helped me fall in love with yoga and really helped me get through some tough times when I was a student. I can't wait to follow along with some of my favorite classes.
Sherri Songer
I just want to say a huge thank you to everyone at In Balance! I really love the online classes, and while sometimes I sign up but can't take the class, it's nice to know I can do so later. I am being more consistent with my practice, and I finally feel my body relaxing and opening up. It's been a very slow process, but it's so nice to feel the change in my joints!
While it will be nice to eventually take classes in person again, being able to have instructors you know vs. a random online class helps with the isolation we're all experiencing right now.
Thank you again for all you do!
John & Andrea Kelso
In Balance has emerged for us as one of those gold pieces that show up in the mud – this mud is filthy, and scary, such as is the meaning of the viral quarantine we are all subject to. With the advent of yoga on-demand, In Balance continues for each of us, with the instructors so many of us have become attached to, we can at least continue our normal lives (even if so abnormal, being all alone in the confines of our homes,) feeling so free to close our eyes, and breathe …
The freedom to try classes that we'd not normally try at the studio, and the freedom to take any class at a time that's best for our schedule helps somewhat to make up for not being able to visit the studio in person. Thank you so much, In Balance, for doing this thing you are doing – thanks for coming into my home, and making this amazing and terrifying time of life so much the more normal! We Love You.
It's also been nice to meet the dogs & cats who help our instructors during class!